A friend of mine once criticised me for being as obsessed with the costumes and look of Mad Men as I was with the plot developments but it's hard to ignore them when they're such a key part of what made the series so compelling, almost becoming a character in their own right. The show raised the bar on stylishness and though others might now follow suit, it's difficult to overestimate its influence. So let's revisit some of the key makeup looks and products used on the main female characters throughout the seven series. The costumes deserve a post in their own right so I'll be returning to them soon.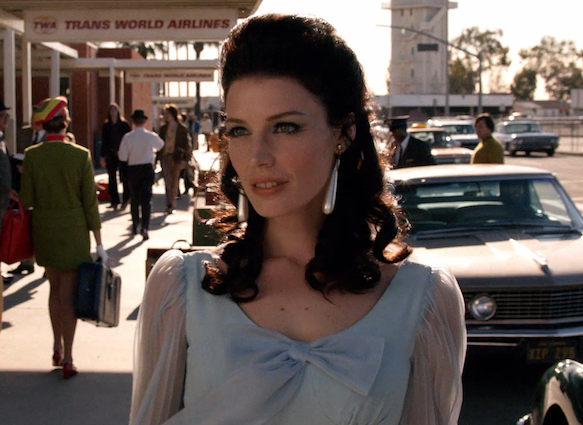 The makeup artist Lana Horochowski is an absolute stickler for historical accuracy and mainly based her research on vintage ads to create an authentic feel. I'll focus specifically on the looks she created for each character in a moment but here are some of the products she used on set.
Base – Koh Gen Do Aqua foundation. Actually, when the show begins in the '60s, there was no such thing as water based foundation and the products around then tended to be much heavier and matte. However, for a more flattering and buildable finish, I'd opt for a  modern base like this one.
Blush – MAC Cream Colour Base in Virgin Isle – Powder blush wasn't available until 1963 so this bright coral cream blush is perfect and Lana says she used it on everyone.
Eyebrows – brows are super important for this period. They need to be really well groomed and defined. Forget the natural look. Lana used Anastasia Perfect Brow pencil to get the shape, then filled them in with the Brow Powder Duo.
Lips – I'll look at specific colours used below but matte is definitely preferable over gloss. Nars, Tom Ford and Revlon lip colours were the main ones used apparently. Lana doesn't specify exactly which character wore them but I do know that Revlon Really Red and Cherries in the Snow were definitely used throughout the series for as they're so highly pigmented and true retro colours.
Joan
Most women I know would love to be Joan Holloway/Harris. Maybe it's because of her amazing figure or stunning red hair but for me, it's because of her extraordinary pale skin which positively glows.
Despite what you might think, Joan rarely has a red lip. Apparently Christina Hendricks has naturally bright lips and normally wore Laura Mercier's Baby Lips or MAC Fanfare. I also know for a fact that Joan often wears Tom Ford's True Coral which is the ultimate retro colour and a great favourite of mine. She also often wears Nars Dolce Vita blush.
I also love the flashback scene with her and Roger in the hotel when he gives her a fur coat. Joan's makeup is classic '50s with stunning red lips and pin curled hair.
Betty
When Don and Betty take a trip to Rome, Betty tries out the beauty parlour at the Hilton and emerges looking absolutely incredible. Lana used Kevyn Aucoin's Snow/Coal Duo Shadow on her eyes and did the perfect flick with Smashbox Limitless liner pen. Apparently, the lipstick used was Besamé Debutante Pink which no longer seems to be available but their Portrait Pink looks similar and any nude lipstick will do.
For her everyday look at home, Nars eyeshadow duo in Madrague and Nars lipstick in Barbarella were used. Betty is a classic Grace Kelly type and her cool look reflects this.
Peggy
Peggy's look is very minimal and barely there. And when she does wear makeup, it's deliberately applied to be imperfect so that we know that her career comes before her image. She's bang on trend with her colours but doesn't quite know how to apply them properly. Lots of mascara was used though, particularly Lancôme Hypnose. For the episode where she decides to seduce Ted and wears this dress with the huge pink bow, Nars Velvet Matte lip pencil in Pop Life was on her lips.
Megan
Megan's transformation at the beginning of Season 5 is one of my all time favourite moments. As much as I love the classic '50s red lips and flicky eyeliner, there's something so sexy about a smokey eye with a nude lip. Lana applied Nars eyeshadow in Heart of Glass (sadly now discontinued) which is a beautiful pale blue and then Nars Thunderball was used in the crease.  A thick line of NARS Nuits Blanches Eyeliner Stylo (this shade seems to have been discontinued but the eyeliner is still available) was applied, followed by lots of Lancôme mascara and false eyelashes top and bottom (I suspect MAC or Shu Uemura). Nars blush in Desire and the velvet matte lip pencil in Belle De Jour added the finishing touches.
For her more natural office look, Megan's makeup is kept to a minimum – NARS Madrague Duo Eyeshadow (see above for link) on the eyes or NARS Lili Marlene Cream Eyeshadow with Nuits Blanches Eyeliner Stylo and Nars Velvet Matte lip pencil in Dolce Vita.
For her honeymoon look, Megan seems to be wearing no makeup at all but Nars Velvet Matte Lip pencil was applied to give her that lovely touch of colour.
I hope you've enjoyed thinking about the makeup as much as I have and that you'll feel inspired to try out some of the looks yourself.